Receipt qualifications include the information that must be present on the paper receipt, and how the receipt must be presented to be valid for offer cash back. E-receipts are not eligible.
Always be sure to Add (+) your offers to Your Retailer List before submitting pictures of your receipt!
Receipts submitted for in-store offer cash back must include:
Store name
Store logo
Store location
Date and time
Subtotal and total
Items that are eligible for Ibotta offer cash back
Receipts submitted for in-store offer cash back must be:
Printed from a point of sale (POS) system
Submitted within 7 days of purchase
Receipts submitted for in-store offer cash back must not be:
An emailed grocery pickup receipt, digital receipt, e-receipt, screenshot, or a printed at home image
Folded, cut, taped together, obscured, hidden, written over, tampered, or altered
A shared receipt or a return receipt
If your receipt does not meet the above qualifications, we may ask you to resend your receipt. Here are some common receipt disqualification reasons, and solutions for resubmission: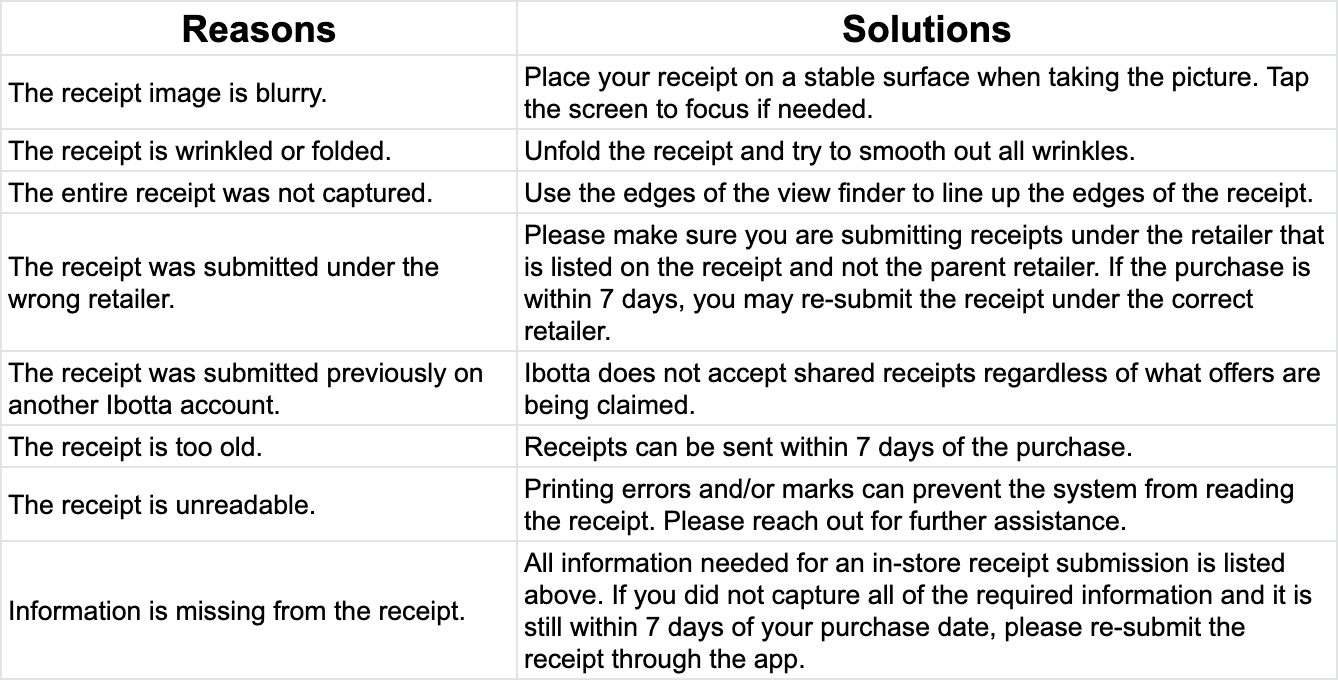 We suggest holding onto your receipt until you receive cash back, just in case further review is necessary! If you made an in-store purchase but your receipt does not seem to fit the parameters above, you can send us pictures of your receipt, through the help center, and our Team will help you get your receipt manually entered and reviewed. Tap or click Submit Request in the upper right corner of the Help Center to send us a ticket and be sure to include pictures of your receipt.
For qualifications on Online grocery pickup & delivery, click here.
Looking for Ibotta Help, but Faster?
Every day our savers find fast assistance in the Ibotta Community. Check it out to see if your question might be answered more immediately by other Ibotta users. Search your topic or log in to leave a question for the Community. Replies typically come through in a few hours or less!
Ibotta General Education