There are a few reasons that a product barcode will not match an offer:
The product may not be eligible for the specific offer. Review the offer details for any rules, like variety or size, to investigate why it may not be scanning.


There may be two similar offers available at the same time. Please check that you have selected the correct offer by reviewing or searching for the offer name at the correct retailer.


Ibotta may not have the barcode in our system. This can happen due to the large variety of barcodes (UPCs) that exist.


The barcode that you are scanning within the Ibotta app is not the barcode of the item that was scanned at purchase. This typically happens when scanning multi-pack items. For example, you buy a 4-pack of deodorant that is encased in plastic wrapping. You would need to scan the barcode on the outside wrapping that encases the items, not the barcode directly on a single item within the multi-pack.
If you feel that the product should be eligible and it matches the offer details, you can send us pictures and we can review the product and the barcode. Please follow these steps:
Step 1: Tap on the offer you are trying to redeem and view the Offer Details page. Make sure the the item you're scanning matches the size, variety and/or flavor described in the Offer Details.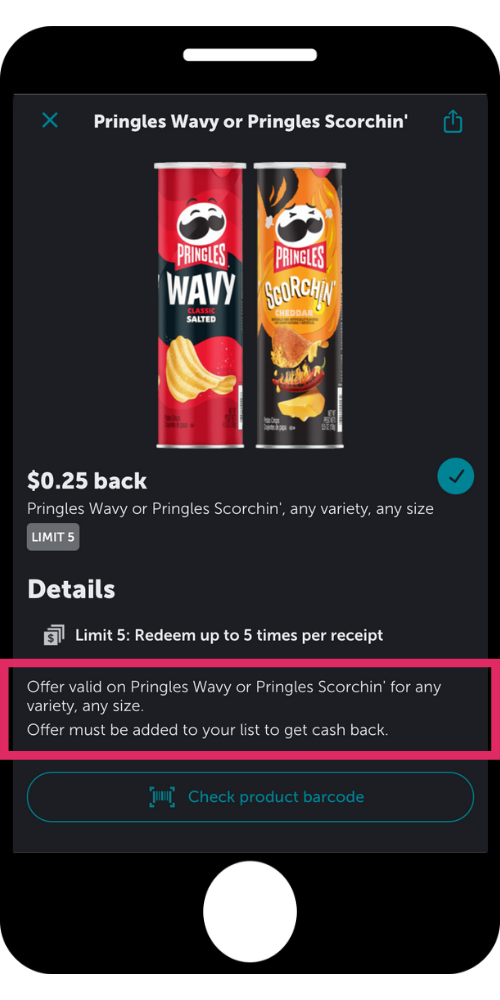 Step 2: Tap on the "Check Product Barcode" button. Scan the barcode on the product twice.




Step 3: You should see a "Barcode doesn't match offer" message appear. If you believe the product you're scanning should qualify for the offer, tap "Request review" to share it with us.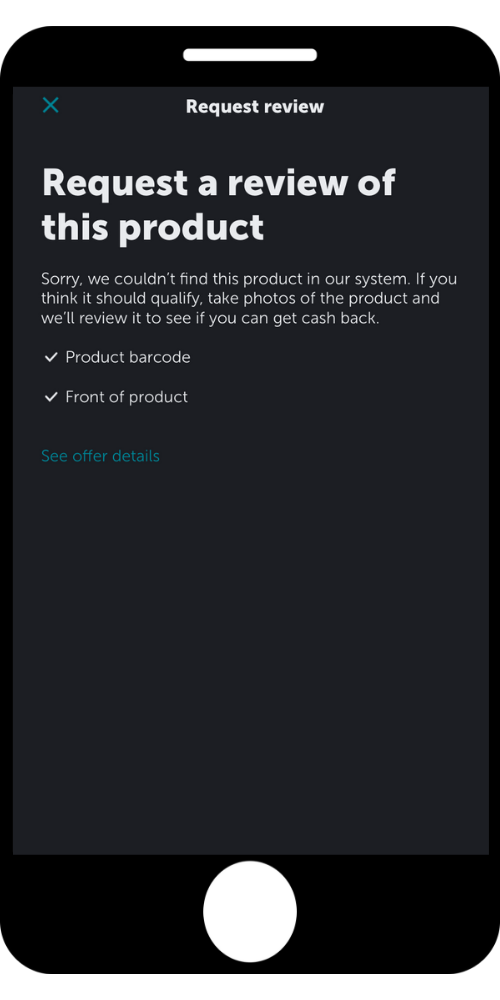 Step 4: Tap "Take photos" to submit images of the product and the barcode. Make sure to include the size of the product.

Once you have taken a picture of the front of the product, you will receive a thank you message. This means the product has been submitted for review by our team, and you will receive a response about whether the product has been accepted within 24 - 48 hours. Tap on "Continue" to continue browsing the your offers.

When the review is complete, you will receive an email. If your product is accepted, please allow one hour for the system to be updated. Then, please refresh your offer list and redeem your offer!
NOTE: If you attempt to scan the product barcode multiple times and are NOT prompted to send us pictures, unfortunately, the offer does not allow for products to be submitted by a user. Please contact our Care Team who can help you with your redemption.

Offers & Redeeming Offers